Shalom Friend,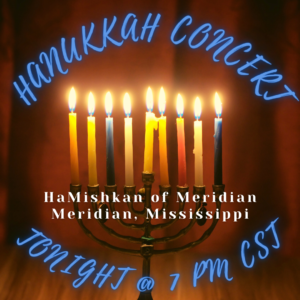 I write you from Meridian, Mississippi.  I look forward to serving this evening at The Tabernacle Church of Meridian for the first time. It
will be a special Hanukkah worship celebration at 7PM central. The word "Hanukkah" means "dedication."  During this Feast of Dedication celebration tonight, we will show our dedication to Yeshua through our praise and worship of Him!  If you are in the southeast area, come and join us at 7PM centr
For the past couple of months, we have been bringing Hebrew liturgical music videos to you.  This month we would like to share one more:  it's a jazzy reharmonization of the "Shabbat Shalom" song that you hear at synagogues as people greet one another in the community.  This lighthearted vi
Jazzy Dreidel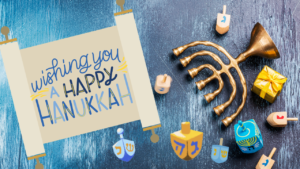 Click the image to the left for a short jazzy arrangement of the
Thank you so much for your prayers and support of our ministries during this season.  As we come to the close of 2021, I am getting excited for the lives that He will touch by His grace and saving power in this upcoming year!
May the Lord bless and renew you and your family during His Feast of Dedication.
Shabbat Shalom from our family to yours,
Dr. Greg