Youth Worship

YOUTH WORSHIP!
We believe in equipping children and teenagers not only in musicality but also in worship leadership. In addition to individual private music instruction, Silverman Ministries offers training opportunities for seven to seventeen year olds in summer camps that can be hosted in churches and congregations. For those in and near the Tucson area, youth have the opportunity to serve on Youth Worship Team and lead the music portion of services about once a quarter. Our hope and desire is for the youth participating in camp and on worship teams to take what they have learned and go back and serve in their home congregations at the next level.
Would you like to partner with us in raising up the next generation of worshippers and worship leaders? Email info@gregsilverman.com.
YOUTH WORSHIP CAMP
This annual week long summer camp for children and teenagers is a fun and faith filled program. Students will sing, play instruments, dance and learn about worship from the Scriptures. The children will form a choir and the teens will form a band. All students will have the opportunity to lead out in music during Shabbat services the Saturday following camp.
We are excited about the opportunity to have offered two Worship Camps this summer. Our 2023 camp theme was "Praise Him! That's the Battle Plan!" based on the Scripture passage from 2 Chronicles 20. Both camps offered breakthrough sessions of Worship Music Coaching with Dr. Greg, Messianic Dance, Bible Study, Games and much more fun! Visit our Camp 2023 page or email info@gregsilverman.com for more details on how your child or teenager can be a part of next year's camp!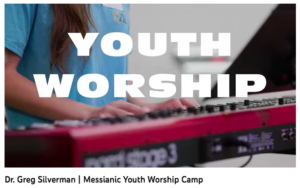 Youth Worship Teams
Children and students in the Tucson area have the opportunity to sing or play an instrument on a worship team in a service lead by youth under the direction of Dr. Greg. Invitations are primarily given to students who have participated in camp the summer prior. Youth Worship Teams take lead in the music portions of the service about once a quarter. Go ahead and save the dates of September 9 and December 9 to make plans to serve on the Youth Worship Teams at Congregation Beth Sar Shalom later this year.