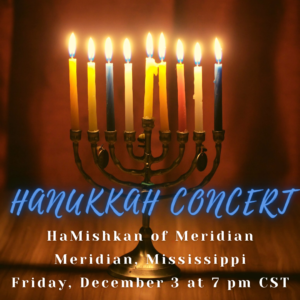 Hanukkah Worship Concert in Meridian, Mississippi

Friday, December 3, I will be offering a Hanukkah Worship Concert at HaMishkan of Meridian, beginning at 7:00 pm CST. The concert is FREE but ticket reservations are requested.

Click here to reserve yours!
I love the Hebrew liturgies. They have blessed me so much through the years. What an amazing thing it is to be able to pray in sync with our ancestors from thousands of years ago. We made short music videos of several of my favorite Hebrew prayers and songs. We released another of those earlier this month.
"Shema Yisrael"
is out now!
Check it out on our
YouTube
and other social media platforms.
Some folks prefer to keep the liturgies a cappella, that is without any piano, guitar, or other accompaniment. To me, I certainly appreciate a cappella, but also think it is beautiful to add additional supportive music to go along with the singing. To me it's a both/and not an either/or when it comes to adding other music to support the Hebrew liturgical melodies. I hope you are blessed by "Shema Yisrael," and you also might like to hear
"Oseh Shalom"
that we released last month if you haven't already.
Dreidels, Latkes, Music!

If you are in the Tucson area, join me at Congregation Beth Sar Shalom for a Hanukkah Party. There will be food, games and lots of fun. Plus I will be giving a mini concert of holiday favorites! The party is Wednesday, December 1, at 6:30 pm local time.  Visit

shalomtucson.com

for more.
Thank you so much for your prayers and support of our ministries. As you know, we exist to SHARE the Good News of Yeshua (Jesus) with Jews and Gentiles, USHER people into God's Presence through music and recordings, and EQUIP and train worship leaders and other creatives. Your faithful support has made it possible for us to continue in this work. We appreciate you.
May God bless you abundantly during this holiday season!
Shalom from our family to yours,
Dr. Greg Silverman