Choir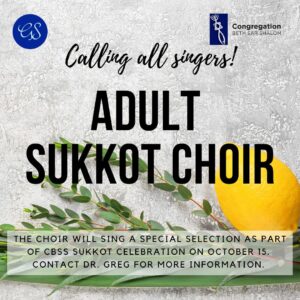 Congregation Beth Sar Shalom's
Adult Sukkot Choir
Calling all singers!  Come join the Adult Sukkot Choir of Congregation Beth Sar Shalom!
The choir will sing a special selection as part of the Congregation Beth Sar Shalom Sukkot celebration service on Saturday, October 15, 2022.  Below is our rehearsal schedule and links to one of the pieces we will present.  Since there are only three full group midweek rehearsals total, we ask that you make every effort to join us for all three.  If for any reason it turns out that you end up not being able to make it to at least two out of the three, you would not be able to participate in service presentation this time around.
Rehearsal Schedule:
Rehearsal #1:  Tuesday, September 20, 7:00-8:30PM (in Youth Room)
Rehearsal #2:  Thursday, September 29, 7:00-8:30PM (in Youth Room)
Rehearsal #3:  Thursday, October 13, 7:00-8:30PM (in Sanctuary)
Sound Check Rehearsal:  Saturday, October 15, 9:15AM (in Sanctuary)
Service:  Saturday, October 15, 10:30AM (free and open to the public, invite your friends)
One of the choral pieces the choir will present is Gadol Adonai by Sarah Liberman.
Click here to watch a YouTube of it.
Click here for the choral sheet music,
and click here for the translation.
Questions?  Contact Dr. Greg for more information at info@gregsilverman.com.