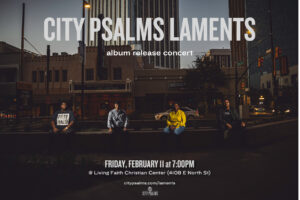 The Laments album release concert is finally happening!
I am excited to share the City Psalms Laments album is finally having its album release concert right here in Tucson on Friday, February 11. You may remember I wrote previously about the opportunity to collaborate with other music artists and song writers in Tucson. We released several singles last year, with the full Laments album completely released in September 2021 during the High Holidays.

The Laments album was written and recorded by a group of local musicians in Tucson area across different generations, ethnicities, genres and denominations to fully contextualize the book of Lamentations in Scripture to our current culture. We are praying for people to see Jesus through the songs – the laments – in the midst of the current chaos and injustice of our culture.

If you are in or around Tucson, Arizona, please join us Friday, February 11, at 7:00 PM MST at Living Faith Christian Church for the concert. This is free and open to the public. The concert will feature a live performance of the entire album plus special solo performances from members of the Laments group.

You can click here to learn more about City Psalms and this album project. You can also listen to the entire Laments album on Spotify.