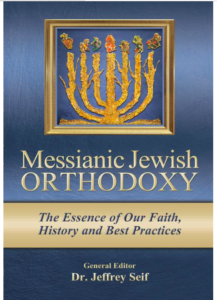 Several years ago a number of scholars and theologians teamed up to author a book on Messianic faith and best practices.  Under the leadership of Dr. Jeff Seif, different authors contributed different chapters related to the Messianic Jewish movement. I had the privilege  of co-authoring the worship chapters with Paul Wilbur.  In 2019, the book was finally published.  Obviously I read the Paul Wilbur portion, and the portion I wrote! However, I am just now beginning to read the book from the beginning.
This book, Messianic Jewish Orthodoxy:  The Essence of Our Faith, History and Best Practices, speaks to both Messianic Jews and the Christian Church on topics relating to Israel, eschatology (the study of end times) and the Jewish people.  It seeks to give a common-sense, orderly, mainstream, scholarly understanding of what Messianic Judaism is and what it is not.  Extremely helpful!
"I hope this work will take its rightful place, contribute to the field and offer a responsible telling of Messianic Jewish faith, theology and best practice."  ~ Dr. Jeffrey Seif, General Editor
Here is a segment from the chapter on Messianic Jewish worship:
Worship is at the heart of Messianic Judaism.  In fact, the word "Jewish" literally comes from the Hebrew root yadah, "to worship with the hands."  Just think, an entire people group has actually been named "worshipers."…  "Messianic" translates "anointed."…  Placing the words side-by-side, the phrase "Messianic Judaism" expresses the idea of "anointed worship," and "Messianic Jews" are to thus be "anointed worshipers."  A distinct form of anointed praise and worship of Yeshua is central within the terms Messianic Judaism, much as it's central to the experience of Messianic Judaism.
I feel that this book should be a go-to for everyone connected with and wanting to take a deeper dive into Messianic Judaism. Click here to purchase your copy of  Messianic Jewish Orthodoxy:  The Essence of Our Faith, History and Best Practices.