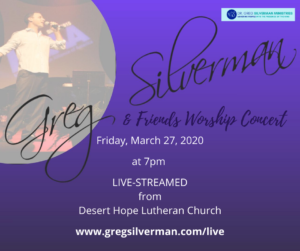 Worshiping God changes us.  Worship is not about us, it's all about Him.  However, when you and I worship Him, it changes the atmosphere, and it changes us…  for the better.
God's Word says, "Worship the Lord with gladness.  Come before His Presence with joyful singing." (Psalm 100:2)
During the past two years, we have been coming before God's Presence with joyful singing in Tucson, Arizona, at Desert Hope Lutheran Church where I serve as music director.  As you know, I have also been ministering through Silverman Ministries:  giving worship concerts across the nation and internationally, reaching to people through recordings and media, and training up the next generations of worship leaders.
On Friday March 27th, I get to do both ministries simultaneously!  Desert Hope has invited me to give a worship concert of original Messianic and congregational music.  I am eager to give God all praise and honor through songs that I have written throughout the years, as well as, leading the community in all-together songs.  Four friends will also be joining me for this:  Chris Patterson on electric guitar, Danielle Hunt on drums, Rick Fertal on bass, and Bernie Läubli on violin.
Originally this was scheduled to be a live event for the public to gather together. Now, it is a live-stream event for you to join in wherever you are, right here on our website, www.gregsilverman.com/live.
Would you pray for this evening to truly meet the needs of the people who join us?  And would you tell your friends?
Looking forward to worshipping the King with you!